Rhymacide is currently considering exclusive and non-exclusive endorsements deals. As highly visible music creators, we can help promote a given company's products and increase brand awareness. Please email rhymacidal@gmail.com for consideration.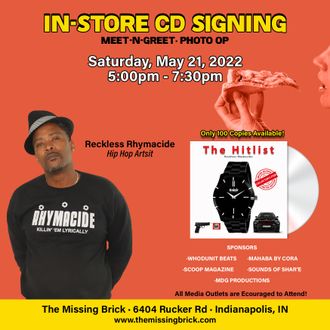 In-Store CD Signing
Pizza Party
Join me at The Missing Brick
(A dope pizza joint) Saturday, May 21, 2022
5:00pm - 7:30pm
I'm hosting my CD Signing • Meet-N-Greet • Photo Op
Basically, it's gonna be a big ol' pizza party 
Live Dj, giveaways, and all of the movers and shakers of Indy. You definitely don't want to miss it.
But you gotta be 21 & older to attend!
No Cover Charge!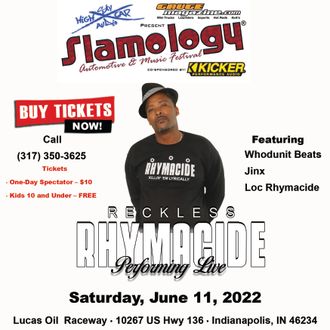 SLAMOLOGY AUTOMOTIVE AND MUSIC FESTIVAL
June 11, 2022
Slamology is a different kind of automotive event created for enthusiasts, spectators, media
groups, custom automotive shops, distributors, and manufacturers alike.

We are creating a bond of all entities involved in the automotive industry, as well as giving the community a look into the heavily populated and ever growing sport of customizing vehicles.

We have a full weekend planned with plenty of entertainment for the auto and music enthusiast alike.

What to expect. A weekend full of good clean automotive/music fun; Club games, great vendors, wonderful food, Bikini Contest, Live Bands, Awesome Trophies and the world's largest car audio contest.

There are no Drugs, Glass Bottles, Firearms, Fireworks,Pets, mini bikes, motorized bar stools, etc. permitted at the Lucas Oil Indianapolis Raceway Park. Please respect these rules and come to have a good time.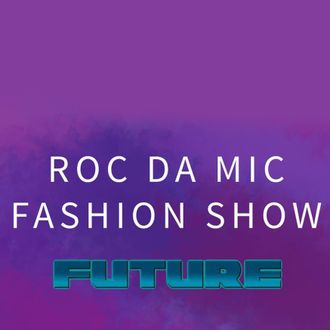 Roc Da Mic Fashion Show - Future
SUNDAY, JUNE 26, 2022 AT 5 PM – 8 PM
Roc Da Mic Fashion Show - Future is the youth edition for the self titled show. We will be showcasing local designers, brands and boutiques that cater to youth ages 6-18.
Designers will be the following:
• Stra'T'gik Visionary & Co.
• Ntrovert World LLC
• Dip N Dap Denim
• Monie's Closet
• Mahaba by Cora
• Rhymacide
• Lustful Ladies Boutique
Special Guest DJ
Special Guest Host
Performance by Party'sOver
Comedian Jimmy Medina
360 Photo Booth provided Lady Bug 360 Photo Booth
Vendors:
Peace of Passion
Aaliyah's Unique Creations
Perry's Boutique Vibe LLC
Gidget's Gorgeous Gems
Food provided by Blended Foods
Location: 2219 E 45th St, Indianapolis, IN 46205